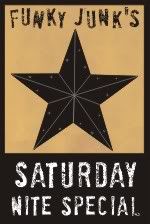 Come on and join the fun!
For my first vignette (or vinaigrette as my son says) I used....
an old pic of me and my little sister taken many moons ago....
a cutesy vandle holder that at the time I just HAD to have!....
some old bibles. The bottom 2 were my husband's grandparents. The missal was given to my dad by his parents when he went into the Air Force. He gave it to me when I left for the Army....
my Mrs Southeast Michigan 2005 crown cause what do you do with a crown like this? Wear it to clean house? Ok, I do do that sometimes....
That is my orchid that when I got was so beautiful but now I have not been able to get it to bloom. I haven't killed it yet though so that is a bonus!
Add it all up....
and you have my very first vignette! I am so hooked on these now!
Hopefully, I will also get a couple more done today that I have in mind.